About Us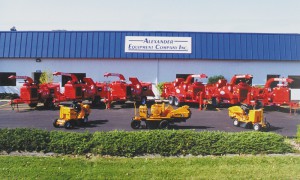 Alexander Equipment was founded in 1988 by Steve Johnston. The office was a spare room in the house, the parts department was in the garage and the machine inventory was a single Morbark brush chipper parked at a local storage facility.
It was a very simple operation – call customers, schedule demonstrations, hopefully sell a machine and then drive to Morbark to get another.
Since then, we've grown into the Midwest's largest supplier of Tree Care Equipment. Our 18,000 square foot service facility in Lisle, Illinois is packed with over $5 million in inventory – right down the block from where our lone demonstrator chipper was stored 35 years ago.
Our current product line includes Morbark Brush Chippers & Industrial Products, Rayco Stump Grinders, Boxer Mini Skid-Steers, Giant Compact Wheel Loaders, CMC Aerial Lifts, Carlton Stump Grinders, Stihl Power Products and a complete line of Arborist Supplies and Attachments. We also boast one of the largest selections of Used Equipment in the industry.
Our biggest asset, however, is our people. We are fortunate to have an extremely knowledgeable and friendly staff that will focus on your long term success and work hard to make sure you are completely satisfied every time you buy from us.
Thanks for visiting our site. We look forward to working with you!
We Offer Financing
We offer very competitive financing on new & used equipment with terms of up to 72 months.
The application process is simple with approvals generally granted within 24 hours. Simply click on the Finance page, print the attached credit application and e-mail it to us at [email protected] and we'll get started right away.
For more information, please feel welcome to call us at 630/663-1400.
Copyright © 2023 All rights reserved.