Lisle Used Tub Grinders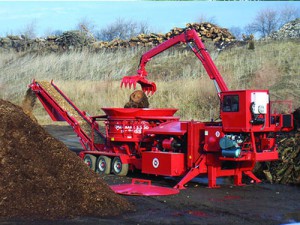 Alexander Equipment Company has decades of experience to our name in serving the Lisle area in all of their arborist equipment needs. This includes our wide selection of used tub grinders that offer efficient work at a budget-friendly cost. Our dedication and hard work that we put in towards our customers has made us a reputable resource for tub grinders in Lisle. The used tub grinders that we have to offer are the perfect tool for high-volume land clearing and industrial wood recycling.
If you would like to learn more about our selection of tub grinders in Lisle, please contact Alexander Equipment today at 630-663-1400. You may also reach out to any of our friendly associates by simply completing the easy-to-use form on this page.
Wide Selection of Used Tub Grinders in Lisle
At Alexander Equipment Company, we offer used tub grinders in Lisle with a multitude of configurations. We also offer a wide selection of models in varying sizes. Our inventory consists of both offer electric and diesel-powered used tub grinder options so you can find the option that best suits you. Each of our used tub grinder machines is thoroughly inspected and any necessary maintenance or repairs are performed before being sold to the public.
Beneficial Used Tub Grinders in Lisle
The used tub grinders that we offer to Lisle at Alexander Equipment Company are capable of providing great work for a lower price. Our arborist equipment specialists can help you find the right piece of machinery at a price that you can afford. Along with our low prices, we offer you a customer service and support team that will help you make an informed decision on a high-quality piece of machinery.
To find out more about the used tub grinders that we have for sale in the Lisle area, please call Alexander Equipment Company today at 630-663-1400. If you would prefer to submit a request online, simply fill out the online request form located on this page.
Request Information
Complete and submit the attached form for more information.
Copyright © 2023 All rights reserved.