Stump Grinder Rental Lisle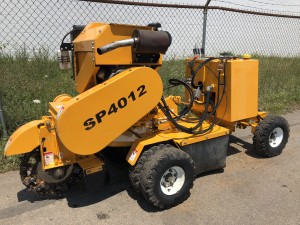 The professionals at Alexander Equipment Company started out in a small office in Lisle offering a single piece of arborist equipment. Since then, our offerings have grown exponentially along with our office space. Our 18,000-square foot facility houses a selection of new, used and rental equipment options. One of our more popular rental options is that of our stump grinder rental service. Our aim is to get our customers the piece of equipment that they need for whatever their job may be.
If you would like to find out more about the stump grinder rental options available in Lisle, please call Alexander Equipment Company today at 630-663-1400. You can also get in contact with any of our friendly professionals by simply completing the online request form located on this page.
Stump Grinder Rental Options in Lisle
Alexander Equipment Company offers our customers throughout the Lisle community with an affordable alternative to investing in a piece of arborist equipment. Our stump grinder rental options are always kept in high-quality conditions for our customers benefit. We regularly take care of any necessary maintenance and repairs before offering our stump grinder rental options to the public. Our team ensures the quality and safety of all of our machines that we offer.
Reliable Stump Grinder Rental in Lisle
At Alexander Equipment Company, one of our helpful experts can guide you in the right direction in selecting a stump grinder rental option in Lisle. We have the knowledge and training needed on all of our equipment rental options so we can provide our customers with the necessary information needed to make an informed decision. Our team will provide you with a budget friendly solution that is specific to your project's needs.
To find out more about the stump grinder rental options that we have available in Lisle, please contact Alexander Equipment Company now at 630-663-1400. Customer can also receive more information regarding our offerings by filling out the easy-to-use form located on this page.
Request Information
Complete and submit the attached form for more information.
Copyright © 2023 All rights reserved.